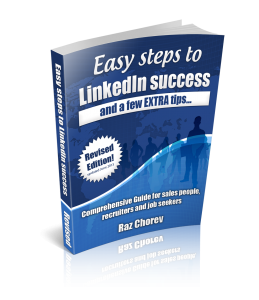 Back in 2009 I've put together the first edition of my Linkedin Guide – 8 Steps to Linkedin Success. The second edition was published in 2011, with many new features. Linkedin (Corporate)  have since became a publicly traded company, with offices around the world, and a prominent player in the social networking space. LinkedIn has changed its' layout and features so often I had trouble keeping up with the changes. I have followed the company's blog on a daily basis,  learned and documented every new feature as it became available. Some of these features I've blogged about, some I just noted and put aside for the next eBook update.
LinkedIn membership base continuously growing since my books' first edition, currently standing around 320,000,000 members, with millions of company pages, showcase pages, and other pages and features.
In this revised edition of Easy Steps To LinkedIn Success eBook you'll find the latest developments on the site (at the time of writing), including the premium offering to sales people, recruiters and job seekers. This time the book is available for free download. Why?  Because of the "Network Effect":
A network effect  is the effect that one user of a good or service has on the value of that product to other people. When network effect is present, the value of a product or service is dependent on the number of others using it. Source: Wikipedia

I encourage you to not only download the book, but really understand it's premise, and share it with your network. The more people educated on how to use LinkedIn, the better and more effective tool it will become.

"LinkedIn is a remarkable tool for generating attention with businesspeople around the world. I've booked new business with it many times! In this book, Raz Chorev shows you how you can be successful with LinkedIn too."
– David Meerman Scott, bestselling author of The New Rules of Marketing and PR, now in over 25 languages from Bulgarian to Vietnamese.