Over the past few years, I had the pleasure of working with many small & medium size businesses, and introducing them to Social Media. Over the past year, I've been exposed to the "big end of town"- LARGE organizations, Banks, Insurance giants,and other conglomerates. The difference between them? Very little. The people working in the companies I was called to work with – have very similar view point: They're all thinking Social Media is another form of an advertising platform, they should ran "campaigns" on it, they must "be on it" 'cause everyone else is, and heading straight into setting up a Twitter page/Facebook account/ Youtube channel, without too much thought or strategy.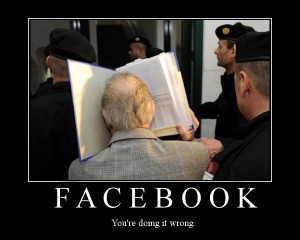 I'm now convinced there's at least one other person sharing my view point. Tamar Weinberg published her rant yesterday, which I was all like: "hey that me!", "sure is!", "Did I write this??" etc…
Companies, big and small, would call a "social media guru" to help them set up a Twitter/Facebook/LinkedIn/ blog or whatever, which the consultant ("guru") can do with their eyes closed. The technical aspects of the social media sites aren't as complicated as it seems. But now what? Many consultants will look at this engagement with the client, see the $$$ in the ongoing engagement, and would offer (or asked) "to look after and maintain social media". The first question should be: WHY? Why would you want someone else manage your social media presence? Some of the functions of social media can be outsourced to a professional, especially the technical side of it.  However, when outsourcing any part of function of your business, it is absolutely imperative  that the service provider will be equipped with the most detailed brief: Who is the target audience, a complete PR policy, including complaint handling, escalation process, tone, legal obligations, etc. The outsourcing company should provide clear and concise goals, objectives, and measurement. Without this information, any activity is Guaranteed to Fail.
Tamar, in her blog post calls it – the Shiny Toy Syndrome. We want it, we want it NOW, and all because it's all shiny and new. We don't really know what to do with it, but hey – look how it shimmers in the light!
She suggests setting SMART goals: Specific, Measurable, Attainable, Realistic, and Timely. Setting goals is very important, but if you call on a consultant because you don't know how to handle Social Media, you'd better do your homework before.
What does it mean? I'll give a recent example. Yesterday I was approached by a marketing executive of one of the largest conglomerates on the planet (an Oil company). This executive was relocated to Australia, to head a 2 year assignment of getting the local operation up-to-speed digitally and online. He took the first two weeks of the Social Media/online/Smartphone integration project, to talk to people, and know what questions he should be asking. Not the answers – the questions!
Once he knows the questions to ask, then it will be easier to find the people to help with Strategy Creation, and come up with a workable plan. You don't know what you don't know, so asking experts which questions you should be asking, is a very clever approach.
What happens when you start with tactics before strategy? You set goals like:
reach 50,000 Twitter followers
Get 100,000 likes on Facebook
Get 20,000 people to follow on LinkedIn.
This can easily lead to 
buying Twitter followers
, or Facebook fans. If these are the KPI's, they will be met. What value does it really add to us? Nothing. We inflate our
Klout
, but it adds very little to the bottom line, obviously. Social media is a channel to be used for engagement, with real people, existing and potential stake holders: Customers, Employees, suppliers, share holders, and the like. Not with numbers. With PEOPLE!!
In the above mentioned post, Tamar raises another important point: If you've decided to join the Social Media festival now, you're not a Trail Blazer. You're now a mere follower, with a LOT of catching up to do. Not only educate the market about your new communication channel, but now you have to compete on people's attention. Now there are MILLIONS of companies trying to play catch up with companies which dipped their toes back in 2007. This is the end of 2011. Do you get it? Now there are spammers, bots, and all sorts of evils. There are impostors, hackers, and other "do-gooders". It's not as smooth and trusted environment as it used to be. The relationship building process will now take longer then before, and you'd need (as a company) to invest a lot of time and resources to earn the trust of the people…
One last profound point –
Social Media isn't a Stand-Alone
thing. If you use social media for marketing purposes, it has to be integrated with every other marketing initiative. Never trust a Social Media expert, who can only offer Social Media services. Without complete understanding of marketing, or at least
digital marketing
, social media efforts are
guaranteed to fail
. It will be even more advantageous if the social media plan is tied with the entire organization, but that's for another blog post…