There are two major gripes people have with Facebook: the first one, is claiming it's not secured enough, and the information we share isn't protected. The second, that the information we upload and share on Facebook, is now belong to Facebook, and we can't access it. RUBBISH, on both counts.
First, Facebook has employed a secure server a while ago (https://), and you can choose to visit the site securely, by changing your account settings:
Go to (top right hand corner) Account, choose Account Settings, then, on the menu on the left choose Security. The first option is Secure Browsing. click Edit, and tick the box. You are now browse facebook via their Secure server.
The second popular assumption, is that the information you upload to Facebook, will stay there, and you can never retrieve it. Not True! Here is how you can download, and back up your Facebook photos, posts, etc… Here is what Facebook archive will contain:
What's in your archive?
Any photos or videos you've shared on Facebook

Your Wall posts, messages and chat conversations
What's not in your archive?
Your friends' photos and status updates

Other people's personal info

Comments you've made on other people's posts
How can I do that? Very simple:
Go back to Account >> Account Settings >> General >> Download a Copy of your Facebook data. (see below).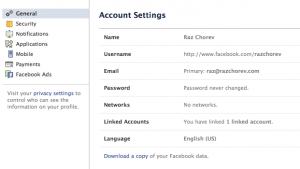 If you've been using Facebook for a while, it may take some time to download all of your information. Don't wait – go and do something else, and Facebook will send you an email once all data is ready to be exported.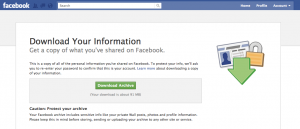 You see, Facebook isn't so evil after all. Or is it??