New research from LinkedIn shows one out of every five hiring managers in Australia have hired a candidate because of their volunteer work experience
LinkedIn  today announced that members can now add a "Volunteer Experience & Causes" field to their LinkedIn Profile. The company also released data that reinforces volunteer work is a key piece of your professional identity.
In the new "Volunteer Experience & Causes" field, LinkedIn members can add volunteer positions, causes they care about, and organisations they support. I've added my experience with Riding4aCause and JobCamp, and mention I support the Black Dog Institute, Mens Sheds Association, and RUOK Day,  and generally support causes around Mental Health, Health and Education. You can add any other causes and organizations you support.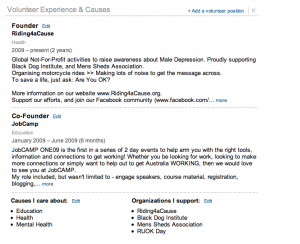 LinkedIn surveyed over one thousand professionals in Australia and found that 77 percent have personally had experience volunteering, but only 46 percent of professionals include their volunteer experience on their resume.
"A majority of professionals in Australia have had volunteer experience but perceive it to be separate or irrelevant to their current profession," said Cliff Rosenberg, Managing Director, LinkedIn Australia and New Zealand. "You may be a sales person by trade, but if you organised a fundraising event, you can add skills, like event planning or event marketing, to your profile. Having those additional skills can set you apart and potentially make you a more attractive employee and business partner."
In fact, 47 percent of the professionals that LinkedIn surveyed stated that when they are evaluating candidates, they consider volunteer work equally as valuable as paid work experience. 22 percent of the hiring managers surveyed agree they have made a hiring decision based on a candidate's volunteer work experience.
To add the "Volunteer Experience & Causes" field to your LinkedIn Profile:
After logging in, click "Profile" at the top of LinkedIn.
Click the "Add Sections" hyperlink.
Select "Volunteer Experience & Causes."
Click the "Add to Profile" button and then fill out the applicable fields.
View a screenshot of the new "Volunteer Experience & Causes" field and get more details on the impact volunteering can have on your career on the LinkedIn Blog: http://lnkd.in/profile-volunteer-field.
I had my volunteering experience previously listed under my work experience. As a result, I have received numerous recommendations from people I helped, volunteered with, or educated in some way. I have now removed these "work positions" from my profile, and my recommendations for these positions are now invisible, as they need to be assigned to to a "work position". I hope LinkedIn will amend this soon.
Have you had any volunteering experience you'd like to add to your LinkedIn profile – now you have the opportunity to do so.
Featured image courtesy of dailyrosetta.com  Based on a 'press release' sent by Amanda Koh, at Edelman, Sydney