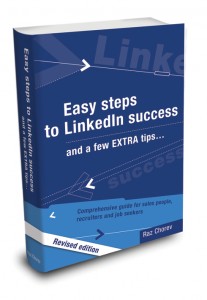 It's been several months in the making (in my head), I've blogged about LinkedIn quite often, gave presentations and facilitated workshops. I've compiled my knowledge (for the time being, as Linkedin changes very often) into this step-by-step, easy to understand, and easy to follow ebook.
These people already read my book:
" Thanks for sharing. I really like it. Well done. Enjoyed the read, found it easy and engaging – and lots of useful info and tips." Alan Greenstein, Executive Director at The IQ Business Group
"I have applied all of the tips and now my LinkedIn profile is sharp, optimised and up-to-date. Thanks, Raz. You've saved me time and money sorting out Linkedin." Robin Dickinson, Business consultant at RAD International Pty Ltd
"Perfect timing Raz. Just this morning, I suggested to a client (a lawyer) that he do more on Linked In to help him step into the spotlight as an expert in his field. Now, I can just refer him to your comprehensive guide. Totally agree with your advice to "fish where the fish live". Your section on Answers will help people who've been on Linked In for years but never taken full advantage of this method of attracting the spotlight. "Tsufit, Author Step Into The Spotlight! : A Guide to Getting Noticed
"Linkedin is an excellent online networking platform that more people should take advantage of. Raz does an great job of highlighting the need to build an interesting professional profile and "polish up their 118," by doing so – something that will further anyone's business or career. Easy to understand, practical book!"
Jeffrey Hayzlett, Kodak's former Chief Marketing officer and Author The Mirror Test.
Get your own copy today!