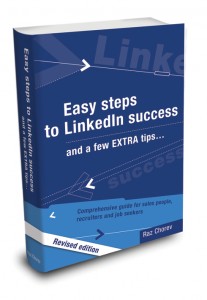 It has been a year since I've published 8 Steps To LinkedIn Success, the first guide to Linkedin. Since then (and probably as I'm writing this) Linkedin has changed in many ways: design, functionality, capabilities, and obviously the number of users (around 120,000,000 at time of writing, August '11).
This edition of the book includes as many new features I could think of, but with them same attitude I had towards LinkedIn, networking (offline and online) and business attitude I had all along. For a limited time only, this ebook is for your eyes only, not accessible to the general public. It may be…
As always, feedback will be highly appreciated.

These people already read my book:
" Thanks for sharing. I really like it. Well done. Enjoyed the read, found it easy and engaging – and lots of useful info and tips." Alan Greenstein, Executive Director at The IQ Business Group
"I have applied all of the tips and now my LinkedIn profile is sharp, optimised and up-to-date. Thanks, Raz. You've saved me time and money sorting out Linkedin." Robin Dickinson, Business consultant at RAD International Pty Ltd
"Perfect timing Raz. Just this morning, I suggested to a client (a lawyer) that he do more on Linked In to help him step into the spotlight as an expert in his field. Now, I can just refer him to your comprehensive guide. Totally agree with your advice to "fish where the fish live". Your section on Answers will help people who've been on Linked In for years but never taken full advantage of this method of attracting the spotlight. "Tsufit, Author Step Into The Spotlight! : A Guide to Getting Noticed
"Linkedin is an excellent online networking platform that more people should take advantage of. Raz does an great job of highlighting the need to build an interesting professional profile and "polish up their 118," by doing so – something that will further anyone's business or career. Easy to understand, practical book!"
Jeffrey Hayzlett, Kodak's former Chief Marketing officer and Author The Mirror Test.
[issuu viewmode=presentation layout=http%3A%2F%2Fskin.issuu.com%2Fv%2Flight%2Flayout.xml showflipbtn=true documentid=110808075042-e8f1af3f8c4349369cf4e5b7c2a68a13 docname=easy_steps_to_linkedin_success__arrows_ username=RazChorev loadinginfotext=Easy%20Steps%20to%20Linkedin%20Success showhtmllink=true tag=ceos width=420 height=280 unit=px]
To download a PDF                                    To Download an ePub file (Kindle/iPad)
Book design (cover, layout and production) – Jomo Design