Today, LinkedIn is introducing a revolutionary update to their existing Company Profile feature. From a very early stage  LinkedIn has compiled massive amount of information about companies from their employees' profiles on the site. Starting with basic stuff like number of employees in the company, locations
, and even male/female ratio in the company, to their work history – where they're coming from,and which company they are likely to move to. Over time, LinkedIn has provided companies' employees the option to edit their respective company profile, and add simple things like logo, company description and some basic contact details.
From a personal profile perspective, Linkedin has allowed individuals to gain credibility by displaying recommendations from their peers, clients, managers, and others. The recommendations were linked to the person making the recommendation' profile, to add credibility to the person being recommended.
From today, LinkedIn has gone a few steps further, and combined the concept of Recommendations, and Company Profiles by creating Company Pages.
The Company Page is now divided into 4 tabs –
Info – general information about the company
Careers – this tab pools together all job posts made on LinkedIn Jobs from the company.
Products/ services – gives the company an opportunity to showcase and promote featured product and services. There's now an opportunity for the company's clients to recommend and share certain products or services.
Analytics – gives the company information on viewers of their page – favourite products/services etc.
"Company Pages take product and service recommendations to a whole new level, allowing members to benefit from the considered perspectives of those whom they trust and relate to the most – the people they know," said Jeff Weiner, chief executive officer of LinkedIn. "In addition, by displaying their strongest recommendations to prospective customers and employees on LinkedIn, businesses can use Company Pages to fuel growth and trust in their brands."
Like everything else on LinkedIn, when you make a comment, "like", recommend a product on the Company Page, it will feature on their contacts' home pages as an update, which allows the best form of advertising known – Word Of Mouth!
One of the features I like best about this new change, is the fact that the recommendations and products/services reviews will be "viewer and network" aware. As Cliff Rosenberg, Managing Director Australia & NZ at LinkedIn, explained this to me  – "The recommendations will be listed in order of your connections – as you'd like to, and appreciate a recommendation for a product or service from your friends, LinkedIn new InPages social platform will show you the most relevant recommendations and comments to you – from your own connections first, and then the rest of the world."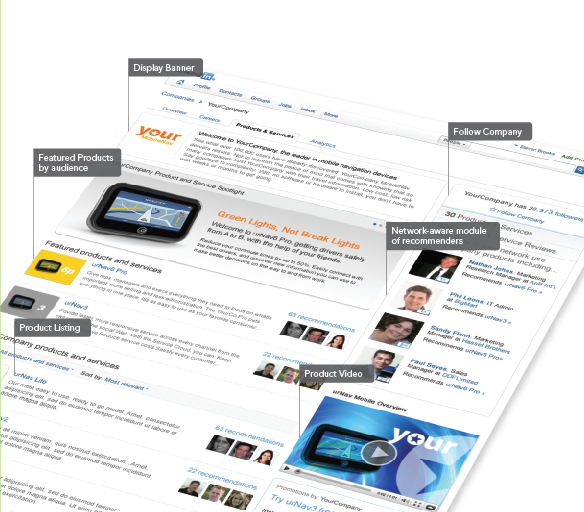 Moreover, when you visit a company page on the Careers tab, you will be able to understand the range of professional opportunities offered to you at the company, tailored to your profile. You'll be able to understand and reflect upon the company's hiring practices, hear employees at the company talk about their experience and learn more about the profiles of other employees at the company – in terms of composition of the workforce, by department, average tenure of employees at the company and the like.
LinkedIn is now in a great position to leverage its ever evolving database of over 80 Million members, with over 1 Million company profiles (now – Company Pages). There are tens of millions of members currently following company profiles. This new development will allow real two-way interaction between companies and their "followers", ultimately creating better client engagement, and better products and services (if the companies will listen and implement the feedback).
Several charter customers have already launched Company Pages to showcase their products and recommendations. These customers include leading-edge businesses of all sizes, ranging from Global Fortune 500 brands to innovative startups, such as:
Australian companies
How will you use your new company page?