Once you get over a certain number of connections, your home page, by default, get clogged up with your network updates – ALL of them. You'll mainly see connection updates ("Jon is now connected to Mary, a real estate enthusiast") , some application updates ("Lisa is leaving for Bendigo, Victoria via TripIt"), articles and other updates.
It has come to a point, that I could only see what happened in my network, every time I logged in, in the past 35-40 minutes.  Since I don't have the time to look at my LinkedIn home page every half hour, I discovered that there's a way to customise the information flow on the home page, so I get the most relevant and interesting information for me. This allows me to see these network updates, once a day, and not miss important updates… (Important to me, anyway).
So this is how it is done:
On the home page, there is a bar which allows you to choose what you want to see at any given point. But you knew about this, right?

If you click on More, you'll notice this: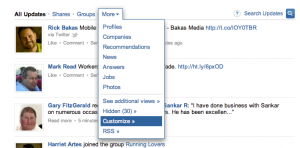 When you choose – Customise, a Setting window will open, with a setting option that isn't reachable otherwise: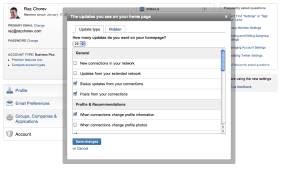 Now choose what is important for you to see…