LinkedIn announced two major developments in marketing solutions that give brands powerful new ways to engage with LinkedIn members.
1. Company Status Updates – providing companies the ability to share direct updates with their Company Page followers
2. LinkedIn Certified Developer Program, connecting marketers and agencies with experienced developers who can develop custom social programs and applications leveraging the LinkedIn platform.
Company Status Updates allow administrators of Company Pages to share professionally relevant updates directly with their Company Page followers, including content such as company news, videos, jobs, industry articles, and more. Given that millions of professionals are turning to their networks to make critical business decisions, companies have an opportunity to use this vehicle to communicate and engage with their followers directly.
I was so eager to try this new feature, I jumped straight into it. I was expecting a share box to just be available on the company page, or an option to share as a company, from my home page. I may have been ahead of myself a little…
I found that this feature needs to be "activated" before I can use it. Given my above expectations, it was a bit annoying, but not difficult. This is how it's done:
*  Go to you company page. You'll notice this message:
*  Then, make sure you choose the second option, and add the people you want to be able to post updates on behalf of the company.

*  Post your first update:

*  People who follow the company can now see this update on their profile, comment and "like" it – real interaction!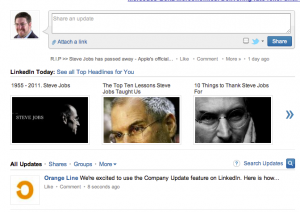 The LinkedIn Certified Developer Program is a best-in-class network of developers to help marketers, agencies and companies leverage the LinkedIn platform to drive engagement with their audiences. Launch partners – which include AKQA, Buddy Media, HootSuite Media, Inc. and Wildfire – have a range of social media marketing capabilities, including campaign management, social promotions, enhanced analytics, custom applications and more.
Find out more about LinkedIn CDP on LinkedIn Developers website – https://developer.linkedin.com/certified-developer-program .