It's been many years on my agenda, to find a solution to a question I had: How do I find out if someone has decided to move on, and disconnect from my network? Fortunately, it doesn't happen often, but on occasion I've noticed that my total number of connection had dropped by one. I'll admit, I have a significant number of people in my network, whom I know personally, or had some sort of business interaction with. So when someone decides to leave my network, it hurts a little, and I want to know who it was.
Until today, there was no such option. You could look up new connections (even that is tricky, but possible – Go to Profile> View Profile> Connections – new connections will come up on top) , but couldn't see "lost connections".
Last week Linkedin allowed people to follow other people, thought leaders, without connecting to them. Much like Twitter. I think it's not a bad idea, especially when following real thought leaders, but these people are not part of your network, and mostly unreachable.  To be honest I much prefer to only have people I know in my network, yet I decided to follow some industry influencers, just out of interest…
As a result of this new feature, Linkedin has introduced another sub-navigation (submenu) item, under Profile, named Following:

When you click on that Following link, LinkedIn will calculate your connections and the people you're following. You'll noticed, that other than Barack Obama, Richard Branson or the Delay Lama there are people you're following, who you KNOW have been in your network, either accepted your invitation or you accepted theirs, yet either the number 2, 3 or Group appears next to their name, which means they are no longer connected to you.
Unless you check this list of Following, You'll never know they've left, because you're still following their updates (they have disconnected from you, so they aren't following you, only you following them). If you want to make sure these people are NOT connected to you, just tick the box: Hide your…. connections.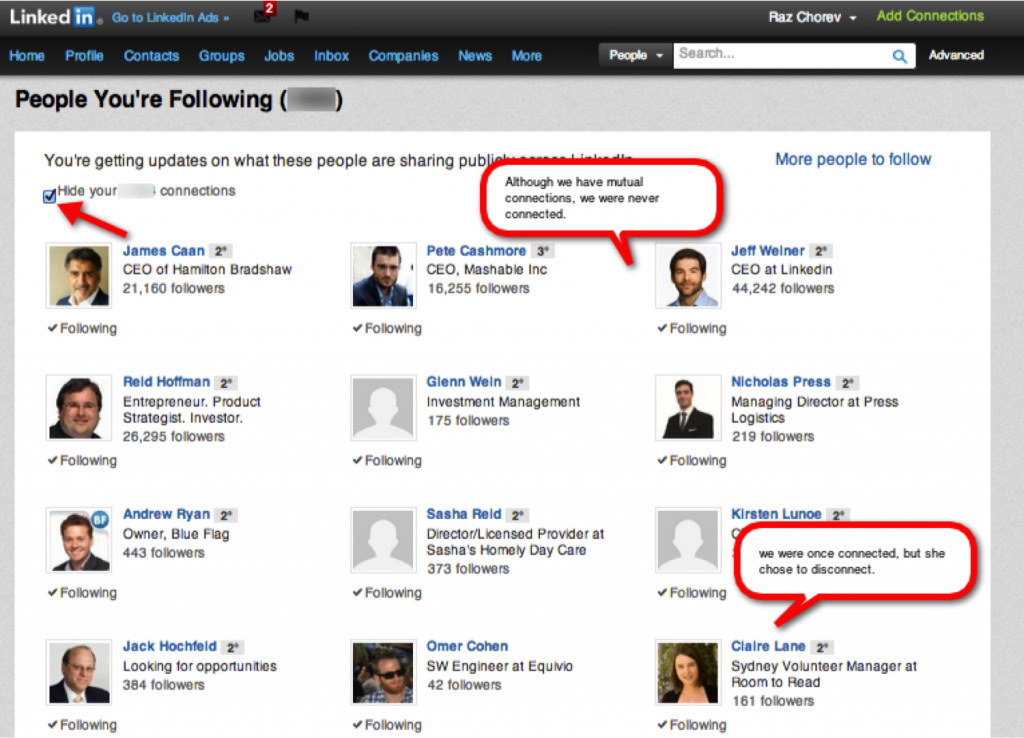 So, do you think it is important to know who left your network, or not??
Tell me why, in the comments below..