LinkedIn has a fantastic way to showcase your expertise, in whatever field you're good at. If you haven't seen it yet, check out the Answers section – Go to your toolbar, on Linkedin home page, hover over MORE and scroll down to Answers. Choose a topic of interest, or an area you think you're good at, and start answering people's questions. if you can't find your topic of expertise or interest on the "browse categories" area, on the Answers home page, look in the Advance Search…
Once you've found a question you know you can answer well, give it your all. The more detailed and thorough your answer is, the more likely you are to solve the persons problem. The person asking the question gets to choose the Best Answer, and the chosen answer gets an Expert Star. something like this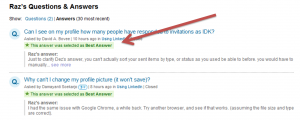 Answering questions in your area of expertise, will showcase your expertise on your profile (as other people see it) like this:

Now that you understand the benefits of Answers, and the way to become an expert on Linkedin, here's a little known tip:
Once you've find the category of Answers you like, go to the bottom right of the screen, like this: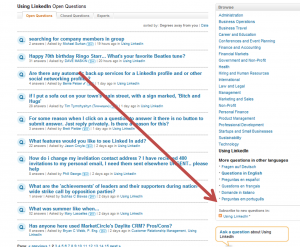 Choose your rss feed reader, and get every new question, in real time, into your inbox!
Very simple, yet VERY effective. Are you an Expert? Prove it, using Linkedin Answers!