In the past few months, I've seen many innovation and new features coming out of Linkedin, and I'm not sure what to make of it. Some features I can understand the use of , such as Resume Builder, Signal, the browser toolbars on Chrome, IE & Firefox, and even the sharing button you can see on the top left hand corner of this blog post (PLEASE USE IT!).
I'm a bit puzzled when I see gimmicks like InMaps, NewIn ,Swarm & Infinity, which are cute to look at maybe once, but to me it is a waste of programmers time and effort.
Here is a list of their new (and newish) services – let me know what you think:
Features
Resume Builder:
and I wasn't surprised to see LinkedIn create a resume builder that allows people to turn their LinkedIn profiles into Word and PDF resumes. It's as easy as  picking a template, editing and arranging the information, and exporting and printing or sharing via email, LinkedIn, Facebook, or Twitter.
At the time of this post, there were over 19,000 Resume Builder users, and over 22,000 resumes,  but as more people become aware of this feature, I think the number will increase rapidly. You can give it a try by clicking on the image below. As long as you completely fill out your LinkedIn profile as you would a resume, you don't have to worry about saving your resume on your computer or on flash drives – your resume can live in the LinkedIn cloud.
Infinity
LinkedIn Infinity is a visualization of your professional network that was built using the LinkedIn Javascript APIs.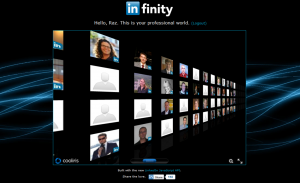 Once you sign in (by clicking the "Sign in with LinkedIn" button) you can click and drag on the wall to navigate through your contacts, zoom in and out, and search by name, title or status update.
Things to Try
Click and drag anywhere on the wall to navigate forward or backward
You can also use the blue scrollbar on the bottom to navigate
Use the mouse wheel to zoom in and out
Use the magnifying glass in the lower right to search. You can search by name, job title, or status update. For example, try searching for "software" or "finance".
Hover over each thumbnail to get a quick view of the name and status
Click on each thumbnail to see details about each connection
In the detail view, click the left and right arrows at the bottom to navigate, or click the X in the upper right to return to the overview.
Click the icon below the X to go to the full profile view
Signal
LinkedIn's Signal certainly isn't new, but it is one of the most powerful services they've released.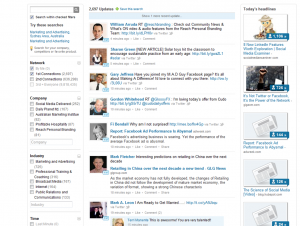 Signal allows you to filter and browse only relevant status updates from your LinkedIn and Twitter streams. You can target updates from colleagues, competitors, etc., and narrow or expand your view based on the following filters: Network, Industry, Company, Time published, Location, School or just most popular hash tags.
You can also search for keywords, topics or people across the stream of network updates, and tap into an auto updated real-time stream of filtered content. Additionally, you can save your real time searches for quick and easy access.
Imagine saving searches to allow you to check in every day and see a real-time stream of updates from every employee in your company. Or, perhaps even better, a competitor!
Signal also mines all the shared links on status updates and shows you the most popular links, many of which are the hottest news stories on that topic, updated to the minute, and you can see who's shared any of those Trending Links.
Toolbars and extentions:
Chrome
If you use Google's Chrome browser (I do), you may be interested in being able to integrate LinkedIn directly into the browser,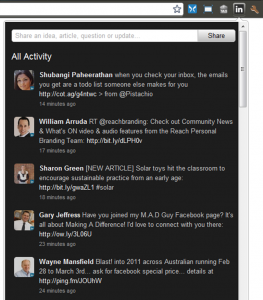 giving you the ability to share things on LinkedIn and give you easy access to your LinkedIn updates at anytime.
Internet Explorer & Firefox
In addition to giving you access to LinkedIn's JobsInsider, the IE and Firefox browser toolbars allow you to:
See LinkedIn profiles or everyone sending you Web email
Quick search LinkedIn from anywhere
Look up people on LinkedIn instantly from any website
Search for names, titles, companies, and job postings
Save searches for the future
Have quick and easy one-click access to LinkedIn
Save and return to LinkedIn profiles of interest
Google Toolbar
LinkedIn offers a Google toolbar that allows you to: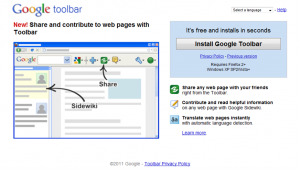 Optimize your Google Toolbar by installing the LinkedIn search button
Share any web page with your friends right from the Toolbar
Contribute and read helpful information on any web page with Google Sidewiki
Translate web pages instantly with automatic language detection.
Lotus Notes toolbar
With the LinkedIn widget for Lotus Notes, you can: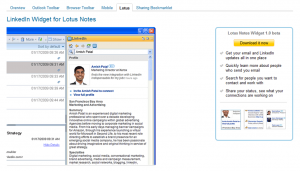 Get your email and LinkedIn updates all in one place
Quickly learn more about people who send you email
Search for people you want to contact and work with
Share your status, see what your connections are working on
Sharing Bookmarklet
With LinkedIn's sharing bookmarklet, you can share webpages with your professional network and groups straight from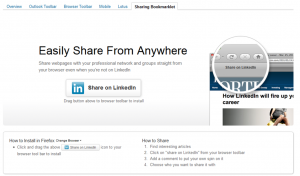 your browser even when you're not on LinkedIn. All you have to do is find interesting articles/content, click on "share on LinkedIn"
from your browser toolbar, add a comment to put your own spin on it, and choose who you want to share it with.
LinkedIn share button
Now, with just a few lines of code, publishers, bloggers, and businesses can easily include a button on their site that lets readers and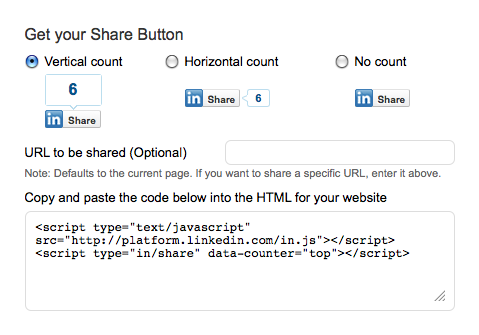 visitors "Share on LinkedIn".
Email Signatures
Although they've been around for quite some time, I still encounter people who ask me "how did you get that LinkedIn signature?"
You can create a customized LinkedIn email signature by going here and configuring the layout and the information – it's very easy and intuitive, and they're claimed to be supported by Outlook, Outlook Express, and Thunderbird. My personal experience is that Outlook DOESN'T support HTML Signatures. Correct me if I'm wrong!
Of course, you can also promote your profile with customized buttons that you can include in your email signatures and elsewhere. I regularly get requests asking how to create them. They are a little difficult to find, because the link to them is hidden in a link on your public profile page of your LinkedIn settings.
Mobile Apps
Linkedin is now available (and has been for a while) on mobile platforms as an app. Apps available on iPhones, BlackBerry, and Androids. From my own experience, the iphone app is the most comprehensive (usability and features). As a  Blackberry user, I'm quite limited with the way I can use my Linkedin app. I have not seen the Android or the Palm versions yet.
The apps can be downloaded from the app store, app world, and app market. Links can be found here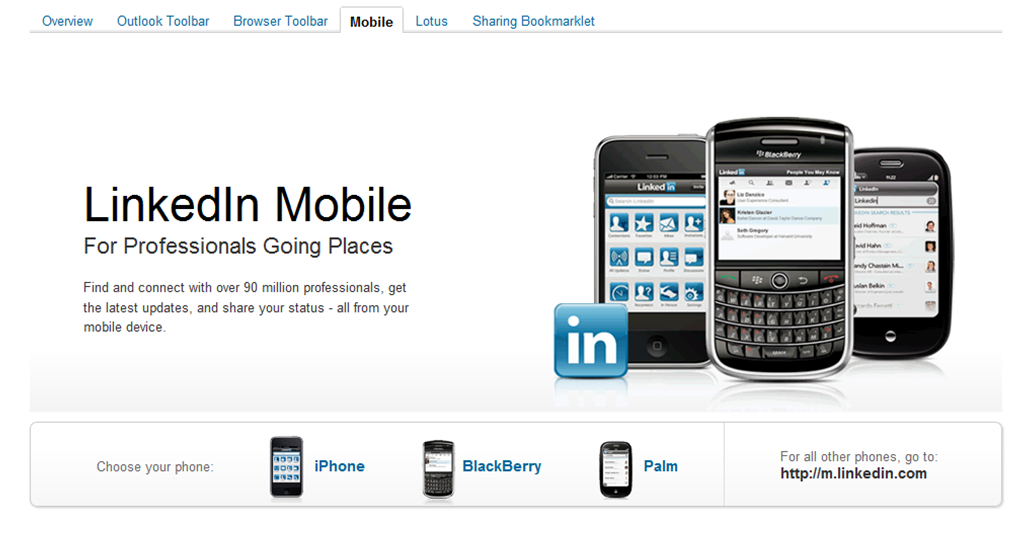 Job InSider
JobsInsider is a tool that comes with the LinkedIn Browser Toolbar for either Internet Explorer or Firefox.
It automatically appears as a browser pane when you search for a job outside of LinkedIn. The LinkedIn JobsInsider helps increase your chances of being hired by:
Identifying people in your network or groups that work at the company posting the job.
Offering the option to request Introductions to hiring managers and get your resume to the right person.
JobsInsider currently works with Monster®, CareerBuilder®, HotJobs®, Craigslist®, Dice®, Vault®, and more.
To download one the toolbars listed above, click on "Tools" at the bottom of any LinkedIn page. The JobsInsider preferences can be set to show when browsing a known job site and/or to appear upon browser startup.
I've tried to install it on my laptop, and it didn't work. Maybe because I'm in Australia, and the programs only works with US based job boards. Or is it just me?
Gimmicks?
Instant Search
Quite self explanatory – LinkedIn Instant Search allows you to instantly search your LinkedIn network.
Check it out:

Swarm
Although LinkedIn's official description of Swarm is "an eerily beautiful visualization of popular company search queries on LinkedIn,
I've seen popular title searches, most recent LinkedIn blog posts, most shared news, and recent jobs posted on LinkedIn.
Oh, and the terms are all clickable so you can explore them in LinkedIn.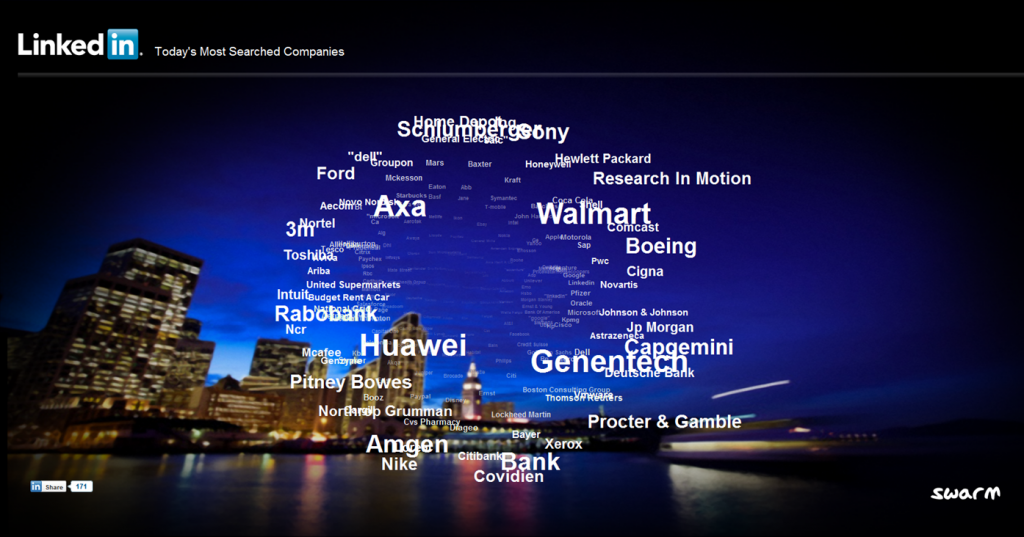 NewIn
LinkedIn now boasts over 90M members worldwide, and people join LinkedIn at a rate of 1 per second.
If you want to see what that looks like, all you have to do is have Google Earth installed and click here.
NewIn could be great when delivering workshops or training sessions – it certainly provides some "wow factor"  because it's one thing to SAY that a new member joins LinkedIn every second, and another entirely to SEE  it.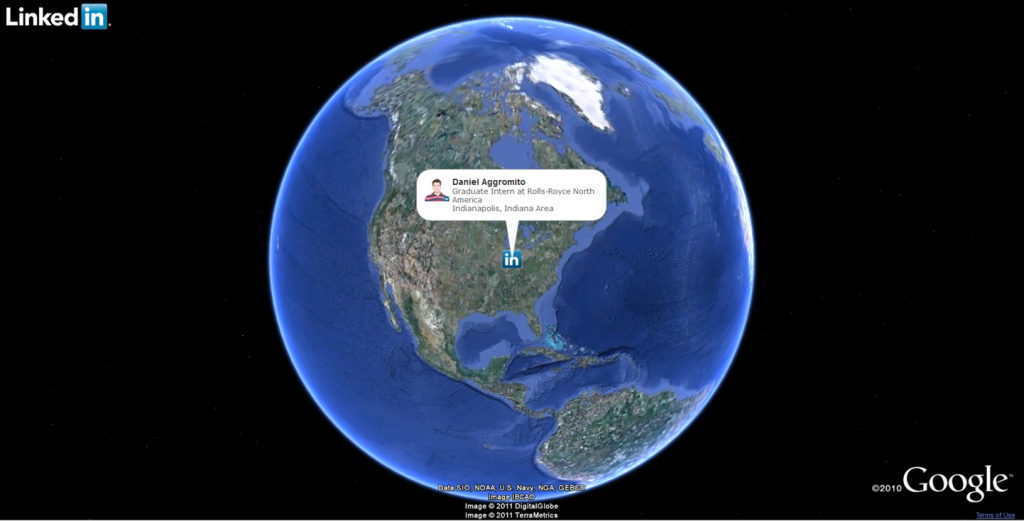 InMaps
InMaps is an interactive visual representation of your professional universe that answers all of the above questions.  It's a great way to understand the relationships between you and your entire set of LinkedIn connections. With it you can better leverage your professional network to help pass along job opportunities, seek professional advice, gather insights, and more.
Here's how it works: your map is color-coded to represent different affiliations or groups from your professional career, such as your previous employer, college classmates, or industries you've worked in. Here's where it gets interesting. Your map is actually a view into how your professional world has been created over time. To get a sense of how that's true, label each cluster (color) and explore your connections to see who are the major bridges on your map. You can use those insights to measure your own impact or influence, or create opportunities for someone else. So, you might see two distinct groups that you could introduce to become one. Or, you might leverage one person to connect them to someone else.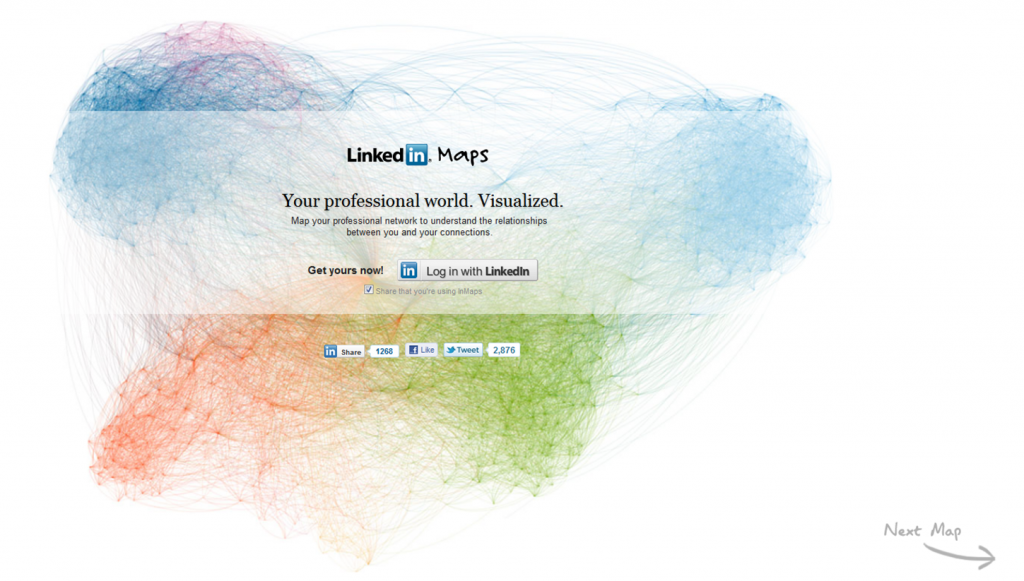 Is this useful, or gimmicky? I haven't decided yet.