A few days ago, Linkedin announced two significant milestones. One global, reaching 100 million members, and the other one, local, is 2 million members in Australia.
I've heard people dismissing these numbers, in the social media space, especially when comparing to Facebook (over 600 Million members globally, and over 10 Million accounts in Australia). If we compare the numbers only – sure, Linkedin is lagging behind.
When we look a bit closer, we see that Linkedin's target is professional workforce – you won't find kids, housewives and pets pages. If you have a Linkedin account, you'll likely to be connected to people you've worked with, or had some other dealing on a business and professional level.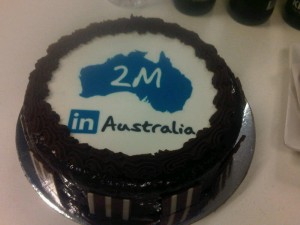 When looking at Linkedin with that perspective in mind, and understanding that the entire Australian workforce is about 9 Million, and you remove tradies, labourers, farmers, casual shop assistants and the like, you'd end up with with a lot less than 9 Million. I don't have the exact numbers, but I think that 2 Million Australian accounts, represent most of Linkedin current target market. Maybe another million. I personally wouldn't expect more than 3 Million members in Australia, in the next 2-5 years.
What does it mean?
Having a Linkedin account, or to say "I'm ON Linkedin" doesn't serve any purpose. If you only consider Linkedin as a place to publish your CV online, and only got "On Linkedin" 'cause too many people sent you invitations, and you "gave in", I urge you to re-think about the role Linkedin can play in your professional life. Having 2 Million Linkedin members in Australia, mean that there is most of the "white collar" workforce already there, there is an opportunity to find employees, suppliers, clients and business associates. There is a great opportunity to learn about industry trends (Linkedin Today), participate in peer discussion on Groups, learn about consumer sentiment using Company Buzz, be in touch with your network on a daily basis, use it as your mini personal CRM (storing information about your contacts, where you've met, and additional details), and yes – showcase your expertise and knowledge, in the best possible light. Not just what you say about you – request other people to write nice things about you (Recommendations), which will give you instant credibility.
Once you've set up your account properly (See Example), spend at least 10-15 minutes per day, learn about your network, interact with them, and continuously grow it. The simplest way to grow your Linkedin and professional network is simply upload any new business card you get on Linkedin, and send a personalized invitation. You can also promote your Linkedin account on your own business card, your email signature, etc.
Linkedin has become an important business tool. Learn how to use it properly, so you won't stay behind.